FREE SHIPPING USA
Showing all 2 results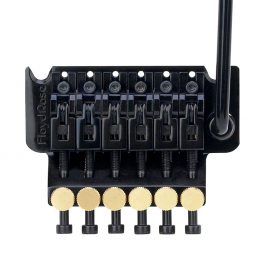 Floyd Rose Original 1984 Black FRT2001984
Taken from the original design specs of 1984, Floyd Rose has put together the "1984" tremolo system that recaptures the vibe and excitement from that era. The "1984" system is a true-to-the-original reissue that features brass fine tuners, old style housing and locked in swing arm, bridge mounting wood screws, and a fat solid brass block for incredible tone and sustain. Available in a variety of nut sizes that will fit practically any electric guitar, the tremolo kit contains the bridge, springs & claw, mounting studs, and all hardware necessary for installation.
Locking nut sold separately
$

332.00
Read more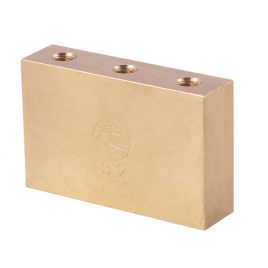 Original Fat Brass Block
This "Fat" brass big block will add mass and sustain to your Floyd Rose bridge along with the tonal qualities of brass. Works with Floyd Rose Original, Non-Fine Tuner tremolo systems. Width is 50.15 mm and thickness is 12.90 mm. Brass has been a much desired material for guitar luthiers dating back to the invention of the instrument; it is notorious for increasing warmth and clarity simultaneously, a rare combination. While greatly strengthening chord clarity and beefing up individual tones, it also greatly improves resonance, especially in the midrange of the instrument. All of these improvements are accompanied with the undeniably vintage sound and feel of this time-tested material. Since this block is larger than a conventional sustain block, it can also limit upward travel of the tremolo and can be set to rest against the body in a blocked bridge configuration. For floating bridge setup this block may require some routing in the spring cavity.
$

46.00
Select options
Pages

Archives

Categories