Black Neck Mounting Ferrules
Set of 4 ferrules and 4 screws for bolting a neck onto a contoured solidbody when a flat neck attachment plate is impractical.
5/8″-diameter counterbored holes required.
The suggested 5/8″ diameter is slightly oversize to allow for finish thickness in the recess. Use a 15mm bit if you plan to fit the ferrule with no finish in the recess.
Screws are 11/64″ (4.2mm) dia. x 1-1/2″ (38mm) long Phillips ovalhead.
Out of stock
Related products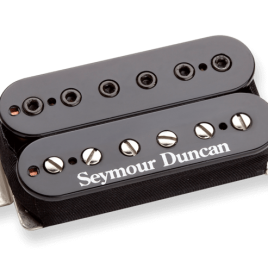 Screamin' Demon Trembucker TB-12
Summary
The Screamin Demon Trembucker is a medium output F-spaced humbucker designed to deliver crisp 80s sizzle with a scooped midrange.
Description
This is the Trembucker (F-spaced) version of our Screamin Demon humbucker. The idea was to create a pickup that had the articulate airiness of an old-school PAF, but with more growl and sizzle. We used slightly overwound coils, an alnico 5 bar magnet, and used a mix of pole pieces that included one row of standard adjustable screws, and one row of shorter Allen head screw. What you get is a big, open tone, with a treble emphasis that keeps your pick attack sounding articulate at any level of distortion. Pair with the 59 neck or Jazz neck humbuckers for a great setup.Trembuckers have wider pole piece spacing, perfect for symmetrical positioning under the strings of guitars with a tremolo or wide spaced hard tail bridge (2 or wider from the center of the Low E to High E directly over the bridge pickup). Hand built in our Santa Barbara, CA factory, the Screamin Demon Trembucker uses an alnico 5 bar magnet, nickel silver bottom plate, 4-conductor lead wire for multiple wiring options, and is vacuum wax potted for squeal-free performance.
$

119.00
Add to cart