Chrome Neck Mounting Ferrules
Set of 4 ferrules and 4 screws for bolting a neck onto a contoured solidbody when a flat neck attachment plate is impractical.
5/8″-diameter counterbored holes required.
The suggested 5/8″ diameter is slightly oversize to allow for finish thickness in the recess. Use a 15mm bit if you plan to fit the ferrule with no finish in the recess.
Screws are 11/64″ (4.2mm) dia. x 1-1/2″ (38mm) long Phillips ovalhead.
5 in stock
Related products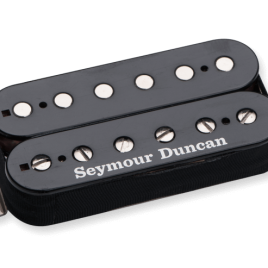 Jason Becker Perpetual Burn Trembucker
Summary
The Perpetual Burn Trembucker lends any tremolo equipped guitar a harmonic intensity worthy of the virtuoso that is Jason Becker.
Description
The saga of Jason Becker and Seymour Duncan spans decades when in the late80s Jason approached us with a new humbucker design. It was to have a slightly hotter-than-vintage wind of 12K coupled with an Alnico 5 magnet to capture the perfect balance of output, warmth, and note to note clarity that all shredders dreams of. Years later, the opportunity came for us to make Jasons vision a reality. The Perpetual Burn is made for endless tapping, wide bends, complex chords and intricate single note passages. This Trembucker version is spaced for whammy bridges so down- to- the-springs dive-bombs and screaming pull ups are no problem. And while Jasons signature pickup is the consummate shred machine, its medium output and voicing makes it perfect for other demanding styles from progressive rock to fusion.Hand made in Santa Barbara, CA, the Perpetual Burn comes with 4-conductor lead wire for multiple wiring options, and is vacuum wax potted for squeal free operation.
$

119.00
Add to cart