Chrome Neck Mounting Ferrules
Set of 4 ferrules and 4 screws for bolting a neck onto a contoured solidbody when a flat neck attachment plate is impractical.
5/8″-diameter counterbored holes required.
The suggested 5/8″ diameter is slightly oversize to allow for finish thickness in the recess. Use a 15mm bit if you plan to fit the ferrule with no finish in the recess.
Screws are 11/64″ (4.2mm) dia. x 1-1/2″ (38mm) long Phillips ovalhead.
5 in stock
Related products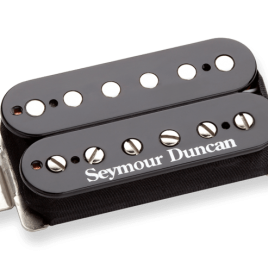 59 Neck SH-1N 4 Conductor
Summary
The 59 Model neck pickup is a warm, versatile humbucker with a big PAF sound that is great for playing both big, rich chords and fat sounding leads.
Description
While these vintage style coils give the 59 neck pickup an airy quality that keeps it planted firmly in the PAF family, the alnico 5 bar magnet, and vacuum wax potting have been added to accommodate lighter guitar strings and louder amplifiers than were ever used in the 50s. The result is a pickup with tons of old-school tonal character, but with a brighter top end, scooped mids, and a more compressed sound. Pair with the 59 bridge model for a traditional balance and sound, or pair with a higher output bridge model like the JB or Duncan Custom for a more aggressive setup.In addition to the alnico 5 magnet and wax potting, we hand build the 59 Model with a variety of traditional vintage treatments, such as 42AWG plain enamel mag wire, long legged nickel silver bottom plate, modern 4 conductor braided push back lead wire, and no logo. As with all of our PAF style pickups, the 59 Model is wound on Seymours old Leesona winder from the early Gibson factory in Kalamazoo, MI.
$

109.00
Add to cart